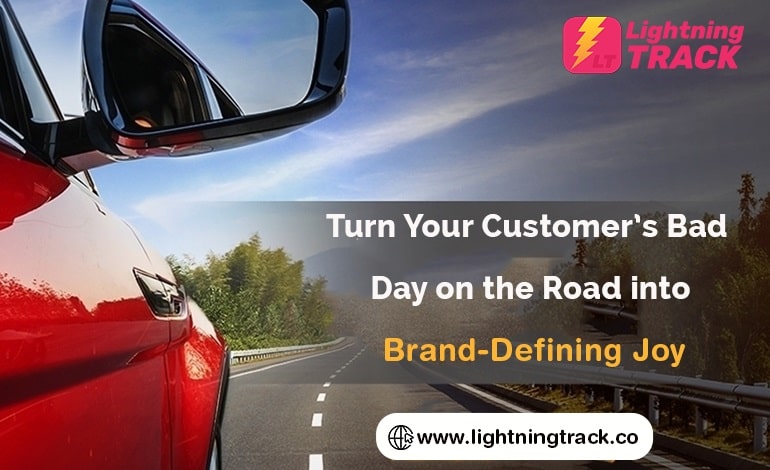 How To Turn Your Customer's Bad Day On The Road Into Brand-Defining Joy
There is an app for everything in this new era of advanced technology. A dedicated app caters to all those specific needs from online shopping, getting groceries, or getting food delivered to you.
Imagine,
You are on the way to work or an important interview you have been waiting on forever, and then boom!!!. The worst moment possible, you run over something on the highway and bust your tires. Now you are stuck on the side of the highway.
What are you going to do?
Call your insurance and realize you only have limited liability?
Call (AAA) and realize you haven't kept up with your monthly payments?
Call a family member or a friend?
Unfortunately, this is a harsh reality for many of us, and we've all been in similar scenarios. Luckily, a mobile app will solve this issue and get you the help you need in a time of trouble.
Lightning Track is an innovative mobile app that will assist you in any possible roadside assistance services. With the click of a button, you can get "roadside assistance in a Flash." We will help with salvaging your derailed plans and have you on your way to that job interview in no time.
Working of Roadside Assistance Works- in 5 Simple Steps
Step 1: Register/Log-in
Users can log-in through their phone number, email address, and social account to book the car towing/refueling/lockout and more services.
Step 2: Select the Service You Want
Customers can choose from a selection of services for the tow truck.
Step 3: Location Sharing
The customer then informs their delivery location to expert.
Step 4: Providing Information
A consumer offers information about their vehicles, including the model, color, plate number, and registration number.
Step 5: Request Fulfilled & Feedback
The service request was fulfilled by a selected service provider who arrived at the spot. In addition, users can leave feedback depending on their experience.
How do people pay for traditional roadside assistance?
Lightning Track Roadside emergency app is an easy alternative to traditional car insurance with add-on or membership programs like AAA.
With lightning Track the following is offered
Save money
Our app is free to download and is a pay-per-use service. So unlike traditional insurance, you have to do countless add-ons that raise your car insurance premium and monthly subscriptions like AAA that you pay for even without getting any service.
Hassle-free payment
When you sign up for lightning track, we recommend adding your card information. For immediately using the service, you will need to request. However, it will allow you to flow through the process with just a few clicks smoothly.
How roadside assistance work with LT
To use this roadside assistance services, users must first register using an email address and a cell phone number. The user will then choose an option from the list that meets their needs (towing, dead battery, flat tire, fuel depletion, lockout, etc.). Next, users can experience these services through Lightning Track.
What Covered by Roadside Assistance Lightning Track App
Lightning Track app is a premium roadside assistance app that covers a wide range of issues that could leave you stranded on the side of the highway while traveling or just for the user's convenience. Below is a list of our services with a short description:
a. Car Tows
If you break down or get in an accident and need a tow, LT (Lightning Track) makes this possible with only a few clicks to get what you need immediately.
b. Fuel Delivery
Emergency fuel delivery is an essential service .when someone runs out of fuel or is just at home and doesn't feel like going to the gas station because of bad weather, etc. A LT partner will deliver fuel of your choice at your location as you requested with a few clicks.
c. Flat Tires
If you are driving along the road, run over something on accident and get a flat tire, or come outside ready to start your day and can't move because you have a flat. With just a few clicks on the Lightning track app requesting the flat tire service, you can replace a flat tire with a spare for stranded vehicles. Some roadside assistance services can even plug and fix a flat tire on the side of the road.
d. Lockouts
Whether you are rushing somewhere and lock your keys in the car on accident. You didn't pay attention before you closed your door with the keys sitting on the seat or getting out of the car to check something on your car and closed the door on accident with the car running. I could go on for days about so many different scenarios but let's face it, regardless of the situation, being locked in your car sucks. It's a great feeling to know that Lightning track is the best help you would need in a time like this and the fastest service. With just a few clicks, your mistake can quickly turn into a message of recommendation after experiencing our prestigious service.
e. Jump-starts
So many times You could find yourself struggling to get a Jump because you left your car light on or your radio etc., depending on when this happens and where you locate, it can be tough to get help, worst case when you don't even have jumper cables. Lightning Track is the option for a quick and reliable response. For example, suppose a car dies due to a dead battery, cold weather, or a bad alternator. With just a few clicks, you will get exactly what you need in no time.
Final Thoughts
No matter which emergency roadside app you choose, it will not be comparable to Lightning Track. So you need to choose one that can deliver quick, safe, and hassle-free services on the road.
If you're looking for the best platform that can assist you in any case of roadside emergencies, your search ends here!
Lightning Track is here to assist you, whether it's a flat tire, gas depletion, car battery problems, or more severe emergencies like needing an ambulance! With a dedicated pool of experts, we help make your life easier and provide peace of mind whenever you need us.